Welcome to ICD-10 Charts, the gold standard in ICD-10 Training and Implementation!  ICD-10 Charts offers a full-range of free ICD-9 to ICD-10 conversion resources, free ICD-10 training by specialty, and the only proven 4 Step Plan to free ICD-10 readiness, in the industry.
Getting Started:
First, click the Begin button at the bottom of the ICD-10 Charts homepage to begin.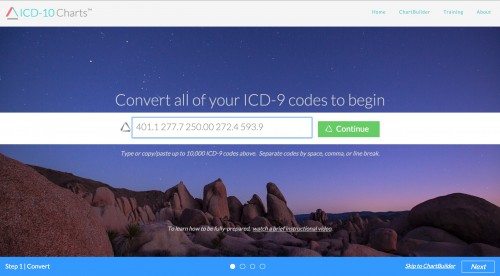 Step 1: Convert
Step 1 allows you to instantly convert any and all of your ICD-9 codes to ICD-10, at the touch of a button.  These codes are then organized according to body-system in our one-of-a-kind ChartBuilder platform, and can be further edited based on the needs of your practice. 
Simply type, or copy and paste all of the ICD-9 codes into the "Enter ICD-9 Codes" area, and then press "Continue" to convert these codes instantly.  The ICD-9 codes can be on the same line, or on all different lines, just make sure they are separated by a space, comma, or line break.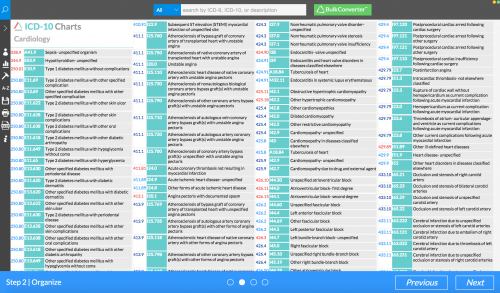 Step 2: Organize
Now that you have converted all of your codes, you can organize them in a number of different ways, as well as remove unnecessary codes, and even add new ICD-10-CM (and ICD-10-PCS) codes using the ChartBuilder shown here.  Click the "i" icon which is the last button on the bottom left of the screen to open the Guide, which will answer all of your questions about how to use this innovative platform.  All of the code conversions provided through the Bulk Converter are Billable codes for ICD-10.  Remember that when adding new codes to your chart, if the ICD-10 code does not have an ICD-9 conversion to its left, the code is NOT Billable.  The red ICD-9 codes have a 1:1 conversion in ICD-10, so these can be reported without any added specificity.  The dark and light blue ICD-9 codes all have added specificity in ICD-10, so these will require a physician or coder to select the appropriate ICD-10 code from one of these possible options.  Some of the other things that you can do with the ICD-10 Charts ChartBuilder are:
– Add any new ICD-10 codes to your chart by using the search bar at the top of the screen, and searching by the code by diagnosis description, ICD-9 or ICD-10 code.
– Click "Bulk Converter" to add an unlimited number of ICD-9 to ICD-10 codes to your chart, or to add all of the specific keyword codes such as "hyperlipidemia"
– Delete unwanted codes from you chart by scrolling over the code and clicking "X"
–  Edit the code description to the terminology used in your practice by clicking the "Edit" button to the left of "X" on any code.
–  Drag and Drop codes to change their location on your chart.
–  Sort the codes automatically by either ICD-9, ICD-10, or alphabetically by clicking the "A-Z" icon to the left of the screen, and selecting the necessary option.
–  Name your chart by clicking "Untitled Chart" at the top of the screen.
–  And much, much more!
When your chart is ready to be integrated into your practice, click "Next" to continue.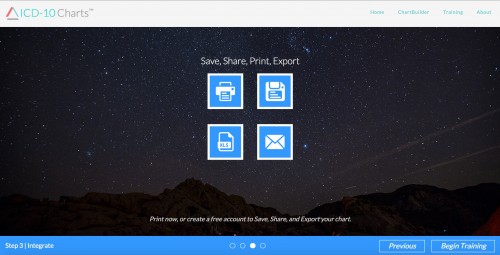 Step 3: Integrate
ICD-10 Charts has provided a number of different options to integrate you chart into your practice, all free-of-charge.  Click the Print icon in the center of the top row to instantly Print your chart for use in your practice.  To Save your chart, click the "Save" icon which will take you back to ChartBuilder in order for you to "create a free account" by entering your email address when prompted.  Signing up is completely free, and requires only an email address to complete. Then login to your email, and simply create your password through the confirmation email and you are ready to go! 
Now you can save unlimited charts to your account, export your chart to excel, have full access to 15 hours of specialty-specific ICD10 training modules, and use all of the other premium ICD-10 Charts features.  To export your chart to excel format which will allow integration into some EMR's, just click the "XLS" icon after logging in.
When you are ready for the final step of your complete ICD-10 implementation, just click "Begin Training" or navigate directly to the ICD-10 Charts Training Portal from the homepage by clicking the "Training" link at the top of the screen.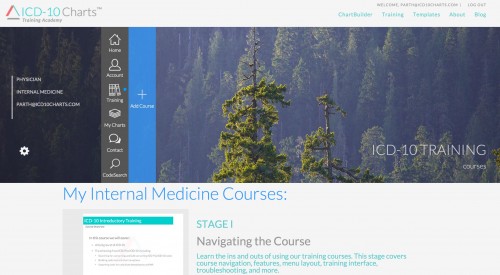 Step 4: Training
The ICD-10 Charts Training Academy is the ONLY free ICD-10 training program on the web that designs custom-tailored ICD-10 training modules based on your unique specialty.  The training portal consists of over 15 hours of comprehensive ICD-10 training modules which create a completely personalized training experience for your practice.  The courses are filled with relevant Coding Practice problems with a searchable library including all of the 68,000 codes in ICD-10.  The problems are built to simulate real life coding scenarios, and have been proven to help with content retention of the ICD-10 knowledge.  We are in the process of CME accreditation and anticipate this will be completed by the end of August, so for those who finish the course now, you will still be eligible retroactively to receive your CME credits for the course once we are accredited.  The number of CME credits varies based on your specific specialty. For more information about this free training program or to begin your ICD-10 training today, Click Here.